Day 1 starts at 10 am. After a simple breakfast (selfmade of course), we started our journey to Dongdaemun. It's freaking cold in -7 celcius without glove, earmuff and enough socks, plus the wind; we really hoped that we could find some at Dongdaemun.
From our guesthouse, we walk about 200 meters passing by interesting shops around the Hyewa area towards the Hyewa station (line 4). Hyewa is located nearby Sungkyukhwan university, thus it's lively with young people from early in the morning until midnight.
Hyewa area - Full of cute valentines goodies~
Korean people always offers to help us first even if we don't ask =D
Since we planned to stay for a week and mostly travel by public transport, we immediately bought T-money card for each of us as soon as we arrived at Incheon airport. You can buy it at grocery store or minimarket such as 7-eleven or family mart for 2500 won or 3000 won. Each card need to be charged for certain amount. You can save 100 won for each subway ride of you use this card. This card can also be used in Taxis and buses.
Dongdaemun station is only one station after Hyewa. If it wasn't because of the weather, we might just walk to the market. Dongdaemun market/Dongdaemun Shijang is a large wholesale market divided into several area such as fabrics and clothes. The Korean name "Dongdaemun" means "Great East Gate", and it was named because it was the major eastern gate in the wall that surrounded Seoul during the Joseon Dynasty. The gate is located at Jongno-6 ga in Jongno-gu. Fashion designers or tailors might be overwhelmed coming to this place because it has a lot and lots of fabrics, korean silks, threads, ribbons, lace, beads, sequins and other things u might want to put on the clothes u designed.
Or if you're not one of them, u might want to buy a bulk of cheap and cute socks or even skin color socks or cute pajamas that is definitely cheaper and higher quality than in Malaysia. There are also shopping complexes opened up to 4.30 in the morning around that area. The clothes are cheap, but don't forget to haggle!~
After looking around, we found a matching gloves for me and hubby, black for hubby and pink for me of course~ hehe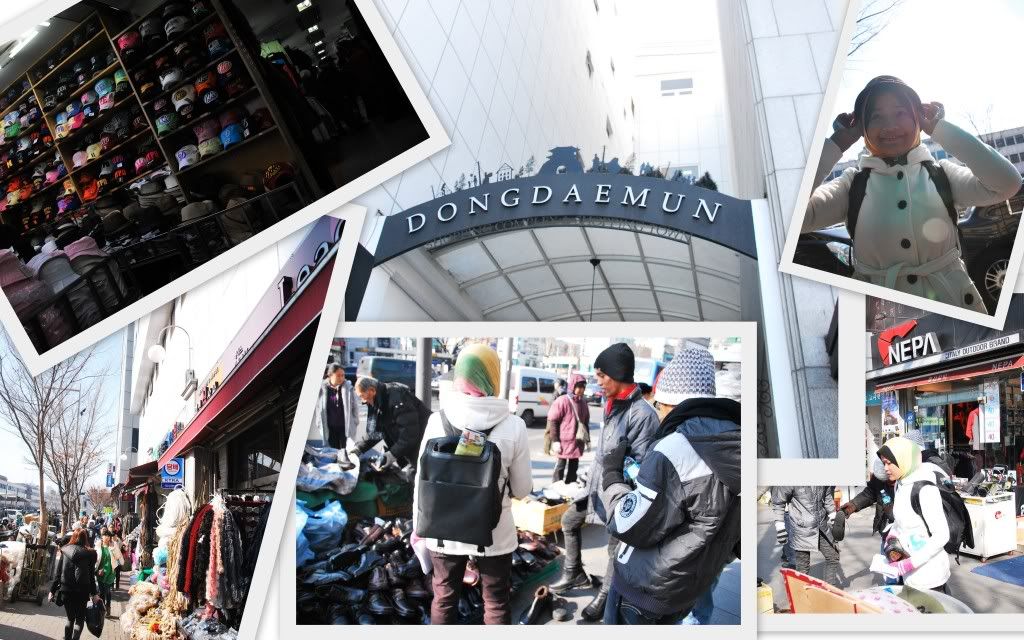 Next, we walk along the freezing Cheonggyecheon stream. During other season, u might find activities around here especially in the night such as light festivals. Poor thing we cannot see them, well maybe we should come again! :D
Then, we walk quite a distance towards Changgyeong-gung Palace. The entry fees is 3000 won. Not so much to see there,just took a few beautiful pictures and left because it's getting darker and colder. I think Gyeongbok-gung in gwanghamun is a lot more worthier because they would show us some performance of changing guards, but later we found out that there were no performance in winter. So, we don't have that much regret. There are about 5 interesting palaces in Seoul and they are pretty much similar. So if u have gone to either one, don't really mind going to the others unless u're a really ancient history lovers. I would suggest u do some research on the museum in Seoul that has free entrance such as National Museum of Korea.
It was just 5 o'clock but the sky is getting darker so we need to go back to the guesthouse. Pray and have some rest. Later that night, adul and wahab decided to just stroll around the Hyewa area and me, hubby and ateh go to myeongdong. Myeongdong station is also at line 4, before Chungmuro. Myeongdong is very lively at night, and luckily that night, we bumped into some competition or performance of groups of boys dancing to the Kpop songs. Well, it was not so bad.
Myeongdong is a tourist shopping attraction. But it doesn't seems to attract us that much, of course because they are not cheap! aha! The goods are much more expensive than in Dongdaemun, namdaemun an edae. Some people say, it is suitable for tourists coming from Japan, US or other higher currency rate country.
But it is still interesting to see the night life of Seoulite. Good night Seoul!