Tuesday, April 5, 2011
Dear Mrs wife,
I hope these will make your day. enjoy!
Regards,
Mr. Hby
------------------------------------------------------------------------------------------------------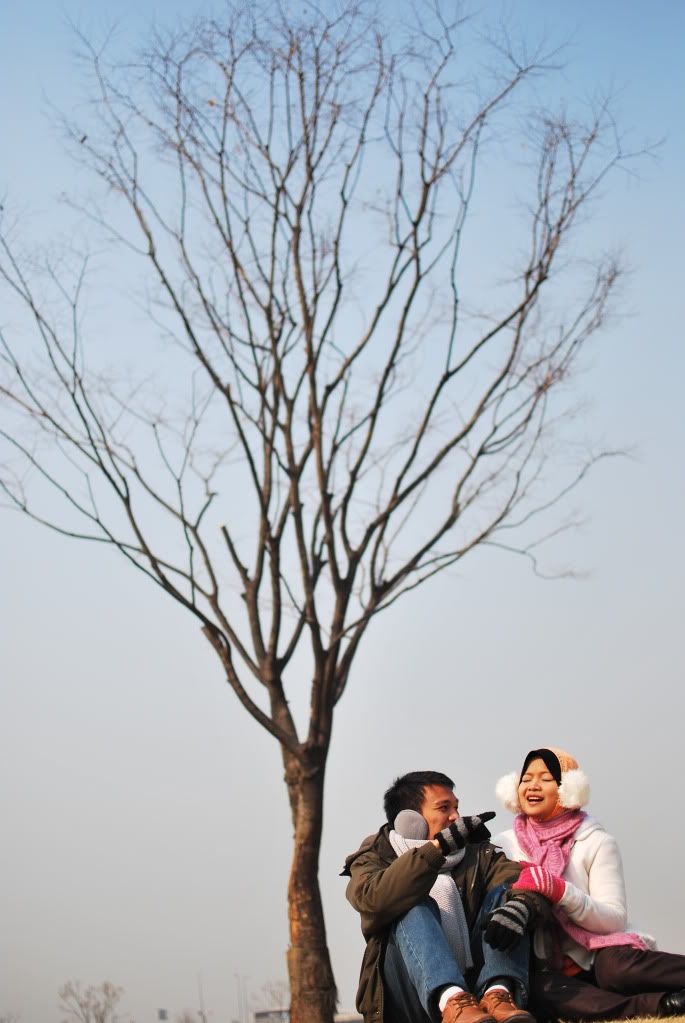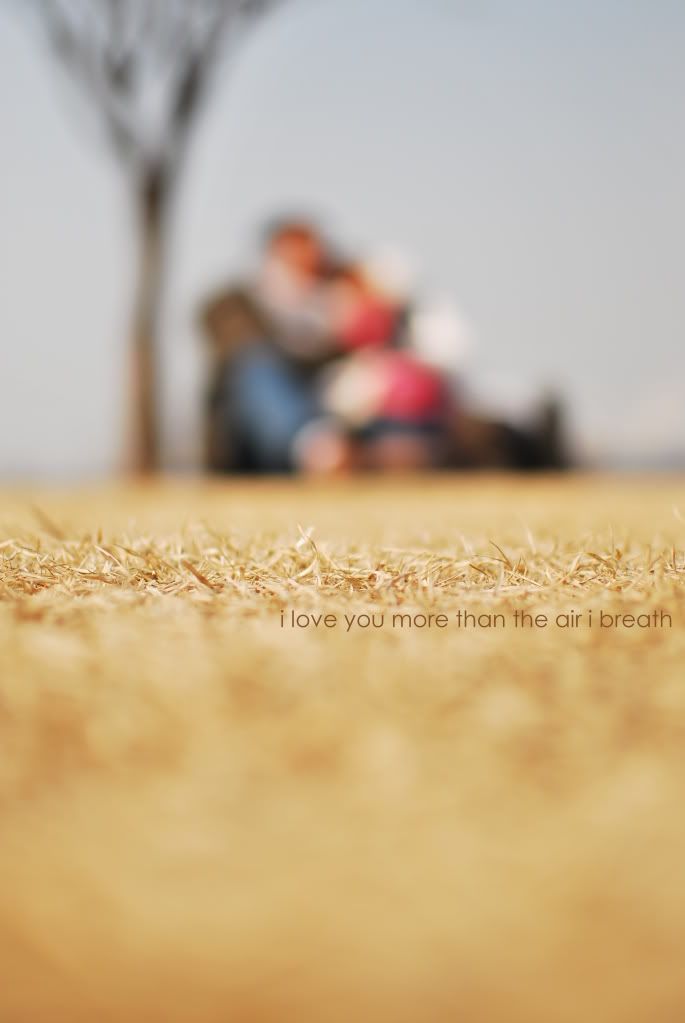 Nami Island or Namiseom is a very small island located near Gapyeong. Korean tourism must have took an advantage from the popular drama, winter sonata and thus decorated the shooting places to be a dream come true island for the tourists.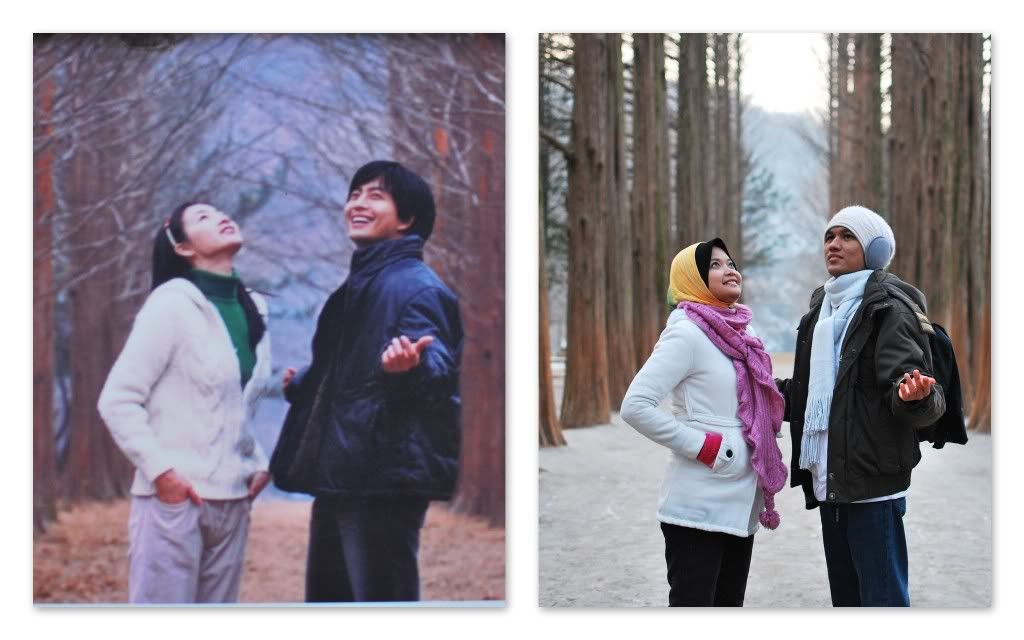 mode: berangan berlakon winter sonata II ;)
There are two ways to go to Nami Island :
1. Shuttle Bus
-The fee is 7500 won per ride or 15000 won for return ticket.
- It departs at 9.00 am everyday except Tuesday. The ride would be 1-1.5 hours to gapyeong wharf.
- You can take subway to Jongno-3 ga and walk about 250 m to Tapgol Park.
- The bus will wait for you in front of the park. Make sure you walk around the Tapgol Park too. It's a nice place and most importantly the entrance is free!! :D
2. By train
- take subway line 7 to Ssangbong. (1000 won or 900 won if u use T-money)
- Inside the ssangbong station, transfer to take the train to Gapyeong. If you can't find it, ask around.
- The train would take about 1 hour to Gapyeong. Enjoy the beautiful scenery along the journey!!
At first, we made a mistake. We took subway to Cheongyani, knowing that we could take the train to Gapyeong from Cheongyani station. But it seems like they have change the route or something. Perhaps there's no train to Gapyeong from Cheongyani anymore. So we have to take the subway to line 7 to Ssangbong and then took the train to Gapyeong.
Travelers tips : Behind the wall of Tapgol Park, there would be food stalls and ahjussi selling antiques things for a very cheap price. My brother found a decent antique camera made in Japan for 8000 won and guest what? it still works and the pics comes out beautifully!!! We also found a cute antique pot for only 5000 won! Don't forget to haggle...Kakka Juseyo!!~~
Behind the Tapgol Park, we met two abbuji at the food stall. Mereka sangat teruja tengok orang Malaysia pandai cakap korea (err sikit2 je sebenarnya), pakcik tepi sekali tu nak belanja kitorang soju (err haram tu pakcik) pastu kami x minum arak, then dia belanje udang goreng je...hihi..baik kan diorang...borak punya borak, tetiba pakcik yang tengah-tengah tu bagi no.telefon anak dia, nak mencari menantu katanya...hahahha...anaknya seorang engineer subway di seoul berumur 30-an...ada sesiapa nak cuba???
Here are some pics for eye candy :)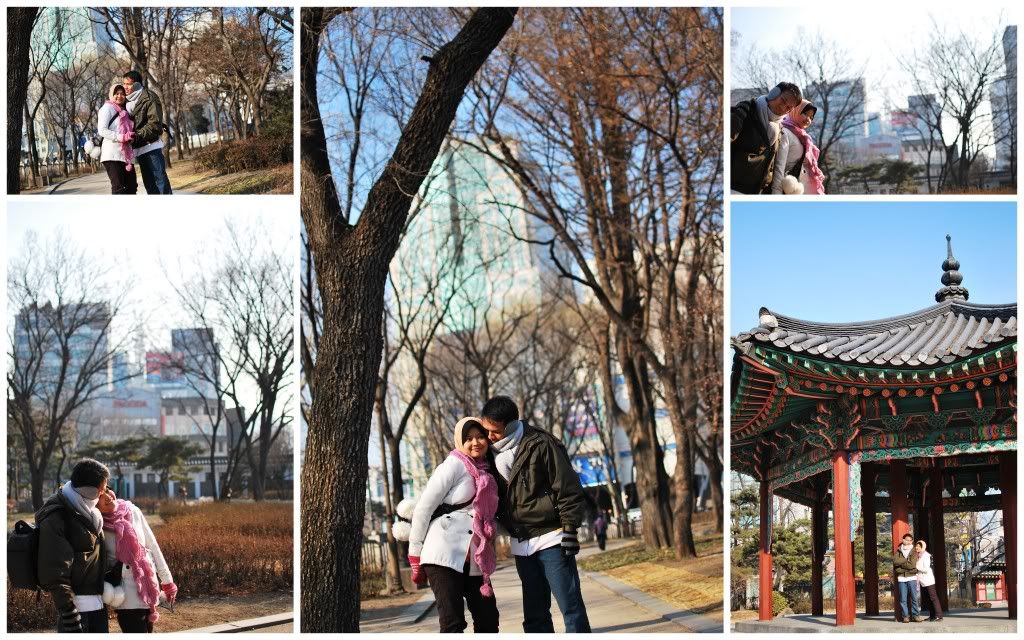 Berlakon menjadi statue; Pakcik kenapa malu-malu?? hihi
Friday, April 1, 2011
Korean Pancake at Nami Island Jetty
Reminiscing the Seoul's trip last Feb, korean pancake was one of the most memorable cuisine we had during our trip to Nami Island...When we went back home, we found a korean cuisine expo in Jusco and bought this korean pancake flour with korean writing on it...although I cannot read korean, I can still understand the instruction. So here we go :
Korean pancake flour - 2 cups
water - 1 cup ( jgn pekat sgt, jgn cair sgt)
daun kucai
udang - potong dadu
ikan bilis
bawang besar-dimayang halus
minyak masak sesudu besar
Instruction:
1. Ramas bawang besar dengan ikan bilis
2. Masukkan tepung, gaul sebati
3. Masukkan air secukupnya
4. Masukkan udang dan daun kucai
5. Panaskan minyak, masukkan tepung dan ratakan di atas api kecil. Masak sehingga garing rangup dan hidangkan dengan sos.
**tak perlu letak garam, sebab nanti jadi muak sedikit. Biarkan masin datang dari ikan bilis. Selamat Mencuba!!! :)